Submission to CRU Consultation on the Energy Demand Strategy
AmCham recognises the unprecedented challenges that Ireland now faces in relation to renewable energy generation and availability. If Ireland is to meet its net-zero targets significant progress will have to be made in a relatively short space of time. In this regard, AmCham also acknowledges the complexity of the challenge in meeting renewable energy demand.
Read the full submission here
White Paper on Sustainable Energy: Powering Ireland into the Future
29.03.2023
Key recommendations  A Sustainable Energy Roadmap:  The development of a roadmap for business, building on the Climate Action Plan, with defined KPIs and concrete timeframes.  Accelerated action to facilitate Ireland in reaching its sustainability goals.   A more holistic approach to energy.   Greater collaboration between industry, research, and Government.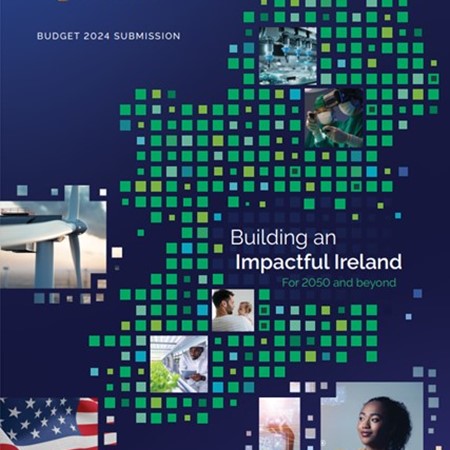 AmCham 2024 Pre-Budget Submission: Building An Impactful Ireland - For 2050 and Beyond
04.07.2023
In our Budget submission, AmCham has put forward its recommendations to Government focused on capacity building and infrastructure delivery, energy certainty and sustainability, excellence in research, excellence in talent, and digital transformation.
Ireland Ranks First Globally for Energy Efficiency but System is Vulnerable to Shocks
11.08.2023
Ireland ranks first globally for energy efficiency a new study has found.  According to Euromonitor International's first global energy vulnerability index, which surveyed 100 countries globally, Ireland's "high share of wind power in the electricity mix'" has given Ireland an efficient energy industry