Winning Organisations at the 2022 US-Ireland Research Innovation Awards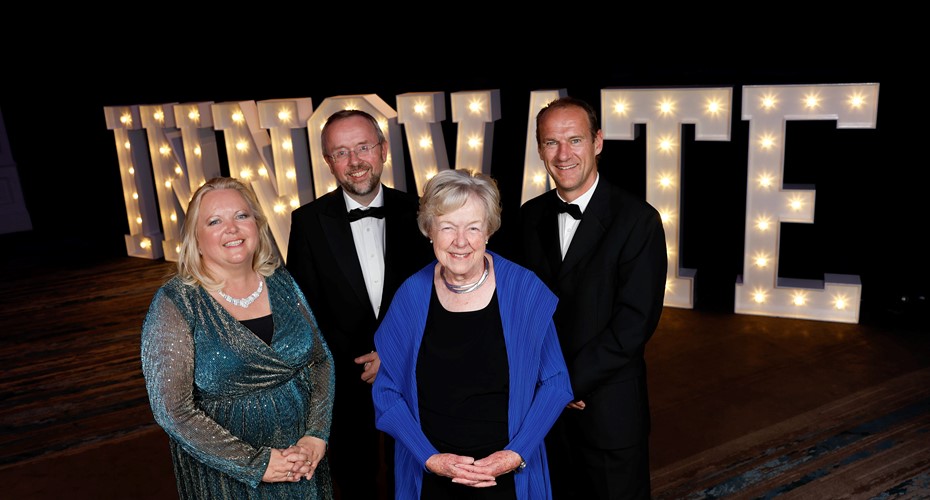 The American Chamber of Commerce Ireland (AmCham) and the Royal Irish Academy (RIA) were delighted to announce the winners of the 2022 US-Ireland Research Innovation Awards at the AmCham Annual Dinner on Friday May 20th. 
Now in their eighth year, the awards recognise excellence in research innovation, creation and invention by multinationals as well as SMEs, organisations, higher education institutions and research centres with links to the US multinational sector. 
Three Award categories were presented on the night for Innovation in Sustainability, Innovation in Talent Development; and Innovation in Enabling Technology. 
Nominees 
The projects nominated for the 2022 US-Ireland Research and Innovation Awards range from Artificial Intelligence to Energy sustainability, Transforming the Future of Work, Neuromorphic Sensing, and much more.  
The companies nominated for the Awards were Bank of America Europe, Boston Scientific, Xperi, Janssen Sciences Ireland, Maynooth University with Microsoft Ireland, Pfizer, Stryker and Microsoft Ireland.  
Winners 
Innovation in Sustainability  
Winner: Maynooth University with Microsoft Ireland for their project Terrain - AI 
The award for Innovation in Sustainability recognises a team demonstrating transformational change in environmental, economic, or social sustainability.   
The winning project, Terrain-AI, is a project by Maynooth University and is jointly funded by Microsoft and Science Foundation Ireland. The project aims to help understand the impact of human activity on land use to enable more sustainable land use.  
The research team found that we currently lack the level of detailed information required to enable the implementation of policies to address challenges including climate change and the need for sustainable food and natural resources production to meet future population demands. Terrain-AI aims to address these multiple interrelated, challenges in an integrated manner and sensitive to time and geographical contexts. 
The multidisciplinary research collaboration develops new cloud-based, automated work-flows and machine learning data toolsets for profiling and characterising environment types for more effective and precise carbon mitigation policies and practices. 
Terrain-AI is advancing the standards of measurement, monitoring, verification and reporting of carbon stocks and emissions across complex environments. We are developing innovative AI solutions and technologies, integrated with computational models, to provide more accurate estimates of carbon fluxes across scales, and a deeper understanding of the effects of human activities, to enable decision makers to develop more effective climate mitigation strategies. 
Click here to watch a video on the winning project: https://vimeo.com/707820339
Innovation in Enabling Technologies  
Winner: Janssen Sciences Ireland for its project - Solving the Buffer Solution Bottleneck through Process Intensification  
The Award for Innovation in Enabling Technologies recognises a team that shows outstanding innovation in technologies that drive digital engagement.  
The winning project, solving the Buffer Solution Bottleneck through Process Intensification, by Janssen Sciences Ireland, allows for a faster, more sustainable and more cost-efficient production of biological materials.   
The manufacturing process requires 170,000L of buffer solutions, which are primarily comprised of water. The traditional approach uses large vessels to prepare and store these buffers, which would have required a larger facility footprint, leading to more expensive running costs.   
Janssen's innovative project means that individual, high concentrated buffer stock solutions are prepared, blended together and then mixed with water from the distribution loop at the chromatography skid, leading to the real time manufacturing and release of the buffer at point of use in the process.   
This resulted in a storage reduction capacity of approximately 80 percent. It also led to a cost reduction of €1.25 million per year and had a positive sustainability impact using 50 percent less plastic.   
Click here to watch a video on the winning project: https://vimeo.com/698570281
Innovation in Talent Development 
Winner: Stryker - for its project – the Stryker Engineering Apprenticeship Program   
The Innovation in Talent Development award recognises an organisation for their outstanding performance in managing and promoting creativity and collaboration in the development of talent.     
The winning project by Stryker, the Stryker Engineering Apprenticeship Program was developed to meet the diverse engineering requirements at Stryker and to futureproof the talent pipeline.   
Providing alternative pathways to develop engineering talent is a key focus area for Stryker. This led the team to develop this apprenticeship training model in partnership with Ibec.  
The industry and academic partnership, course content and the mentorship structure in this apprenticeship program are all focused on developing a pipeline of talent to meet the needs of the industry today and into the future.  
Click here to find out more about Stryker: https://vimeo.com/708616885
Sponsors 
The 2022 US-Ireland Research Innovation Awards are proudly sponsored by BT Ireland and EY Ireland, and the Irish Times is the media partner. The RIA is AmCham's official partner for the Awards.