American Chamber presents US Ireland Business Awards at 2023 Annual Dinner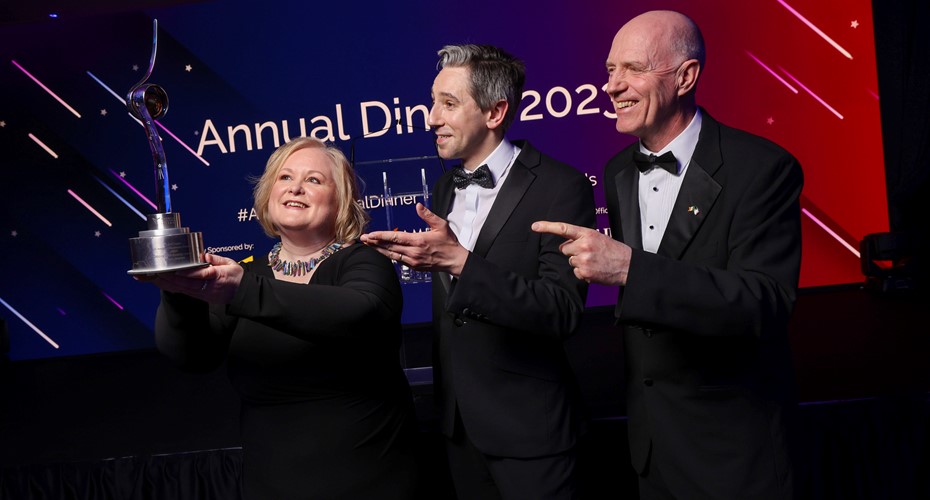 AmCham presented the 2023 US Ireland Business Awards at the Chamber's Annual Dinner in The Clayton Burlington Hotel, Dublin, attended by around 500  members of the US-Ireland business community, with guest of honour, Simon Harris, Minister for Further and Higher Education, Research, Innovation and Science.  The awards recognise inspiring individuals, teams and organisations who have strengthened the US-Ireland business, trade and investment relationship in areas including business development, education, research and innovation, and arts and culture and who are committed to sustainable business, inclusion and giving back to the community.   The event was sponsored by EY, BT Ireland and media partner The Irish Times.
The winners of the 2023 AmCham US Ireland Business Awards are:
Global Leadership Award - Lorna Martyn, Senior Vice President of Technology, Fidelity Ireland
Global Impact Award – ICON
Global Community Award - Qualtrics 5 for the Fight
About the Global Leadership Award
This Award is presented to an individual who has had a significant, positive impact on US-Ireland business relations.  
The 2023 winner, Lorna Martyn, was instrumental in the evolution of Fidelity Ireland developing a technological hub that is vital to the ongoing growth and success of Fidelity's wider business. Outside of Fidelity, Lorna Martyn is actively involved in developing the technology ecosystem in Ireland.. She is also a board member of the Irish American Partnership, which supports education and community programmes across Ireland. 
About the Global Impact Award
This Award is presented to a team/organisation for a project that has had a significant positive, global or international impact on markets or society.
The 2023 winner, ICON, has extensive experience in vaccine clinical development for commercial businesses, governments and NGOs, having participated in over 160 vaccine studies in the past five years. This experience helped ICON play a significant role in the search for vaccines and treatments for Covid-19. ICON has conducted or is currently involved in over 130 COVID-19 related trials.
About the Global Community Award
This Award is presented to an individual, team or organisation including US MNCs that has had a positive societal/community impact in an area that is aligned with the values of AmCham and our membership.
The 2023 winner, Qualtrics 5 for the Fight EMEA, was founded by Qualtrics in December of 2016 as a public charity in the US aimed at fighting cancer and began work in earnest in 2017. Later that year, Dermot Costello, who brought Qualtrics to EMEA, was diagnosed with terminal cancer. At that point, employees at Qualtrics in Dublin stood-up and founded 5 For The Fight EMEA. The initiative was created with milestones for hiring researchers, and the aim is to bring the best and brightest scientists together study cancer. 5 For The Fight wants to make more survivors. Over the past 5-years the EMEA program has raised over €1.15 million.
Chief Executive of the American Chamber of Commerce, Mark Redmond said: "My warmest congratulations to our award winners tonight.  You are the finest examples of the many ways in which your companies innovate, lead and integrate here in Ireland, making significant contributions not just to the economy but also to our society.  In purely economic terms, your companies, along with US MNCs across Ireland, employ 376,000 people directly and indirectly and spend €31 billion in the Irish economy every year. And this relationship is very much a two-way relationship. In 2022 Irish companies employed 100,000 across all 50 states in the US and Ireland was the 9th largest source of FDI into the US. Irish workers are the most productive in the world. Ireland has the 4th most international workforce in the EU and 63 percent of 25–34-year-olds here have attained a third level education compared to an EU average of 41 percent.
The transatlantic economy is the largest and wealthiest in the world and Ireland is now the only English-speaking, common-law gateway to the European Union for the United States. Ireland's pro enterprise ecosystem, our membership of the EU and the continued messaging that inward investment is a national priority have all been factors in attracting US MNCs to Ireland, and we know that the country remains committed to creating the right environment for future investment."